Personal Stylist Candace Kristin

Gift Guide by Westfield Garden State Plaza's Resident Fashion Stylist
February 2020
2020 Spring: All about the 80's, romance and very wearable trends:
Despite promises of snow in the near future, its time to start thinking about what you will be wearing once the warm weather hits.  The Spring Summer trend report is one of my favorite blogs.  I have viewed countless hours of designer's runways from September shows across several continents.  Global Fashion Weeks are about painting a picture of shows selling high couture mostly unwearable trends.  It's my job to sift through "looks" and tell you the ones that are actually wearable and how you can incorporate into your own daily wardrobes. From the runway to the "realway". 
As always, for a personal styling appointment with me, and to get these looks directly in your closet, please e-mail Tiffany.Ramirez@URW.com to schedule your personal styling appointment! 
Beach Destination Must Haves:
---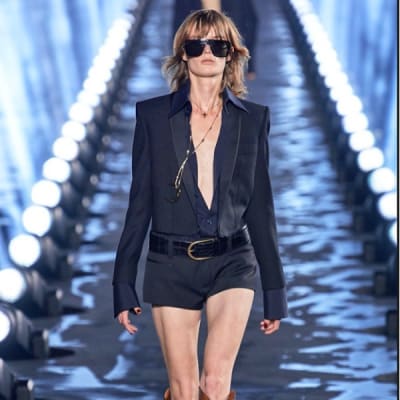 Shorts
Because it would not be a summer with our shorts, this season there are two vastly different approaches in lengths: short shorts and Bermuda. The tiny short came back and can sub in for your summer mini for a night out.  The Bermuda was found paired with a matching suit jacket and pumps for more of a 9-5 office approach.  I personally will certainly be adding short suiting to wardrobe this spring.  A fresh approached to the typical workday suit.  If your office allows, I say go for it. 
Daytime Shine
Designers this season paired sequins, metallics and glitters to simple sihouettes to create carefree daytime shine. These bold materials feel effortless when styled with simple sneakers, denim, tshirts and messy buns.  Whether you go for a dress, jumpsuit, or skirt let the sparkle do the talking and keep the rest of your look clean and simple.  The key is to add a bit of shine, vs head to toe.  Therefore, if donning a sequin dress, pair with leather or satin shoes and simple jewels.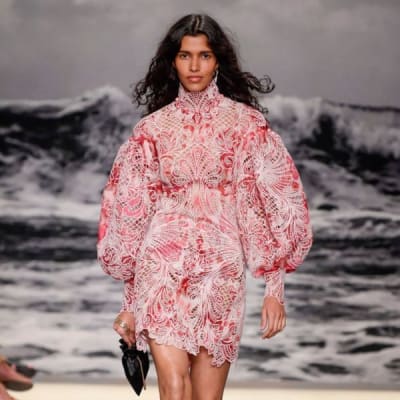 Statement Sleeve
All over the runway designers created dramatic shoulders to voluminous ruffle sleeves.  The look feels ultra feminine and romantic, reminiscence of Marie Antoinette and will make you look like a princess.  Grab a shirt with a puffy shoulder and pair with high waisted denim and pumps.  Feel like Joan Collins and attend your next gala with a dramatic sleeve gown in a simple silhouette for balance.  Chances are it will be easy to find as they will be swimming all over the retail floors.
80's Hues
Strong seasonal colors you will see all over the retail floors are look at me highlighter hues.  You sure to make an entrance and stand out in the crowd in these look at me colors.  Not for the faint at heart.  Take it from runway to real-way but incorporating a piece into a look version dressing from head to toe in neon.  So go for the gusto and grab a Gen Z yellow or bright Millennial pink.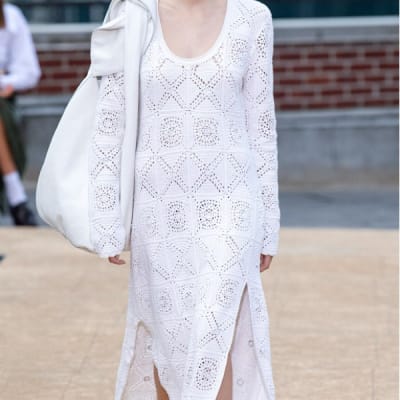 Not Your Grammys Crochet
This spring find a dress, pants or skirt in open weave knit not just relegated to a beach cover up or your Grammy's bedspread.  While, personally I have not thought about crochet since I was a kid, this season it's on my radar and should be on yours too. This season its fresh, sexy and feminine. Designers incorporated into dresses, skirts and cropped tops.  Pair dresses with espadrilles, cropped tops with a blazer for more of a polished look, and skirts with a simple top.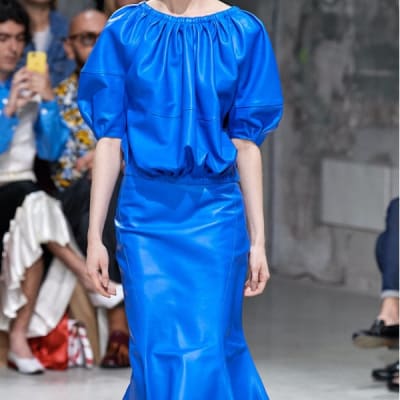 Soft Leather
Leather seperates remain a huge trend, including faux versions.  For the spring, find pieces in a ray of color, from tan, to forest green to pastels.  Off set the leather dress with sneakers and a ponytail.  Pair leather pants with a t-shirt and flat loafers.  Grab a skirt and add sandals and a knit top.  The take away for 2020 is making it easy and carefree.
Chain Link
The link necklace shows no sign of slowing down. Set aside the dainty neckwear for go big or go home chunky chains.  Amp up a simplest of outfits to create a splash. The take a way, channel your inner 80's glam girl and add links to your style game.  Create a look with paring two necklaces to make a stronger bolder neckline.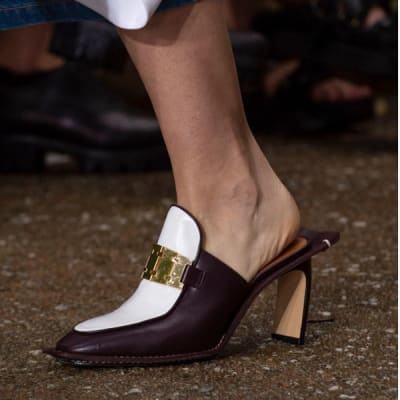 The Loafer
The new wave of loafers hitting the shoes salons this spring is giving me major "Mad Men" 60's vibes. No to be confused with your dads trusted work pair, is about chunky heels, sling back feminine styles.  The hardware is bold, and many include detail tassels and non-traditional colors.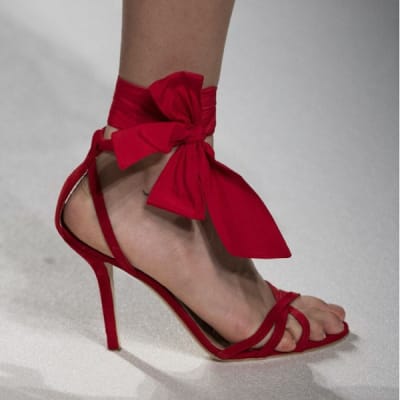 Bow Adorned Shoe
Bows are sticking around and will be found this spring on sandals, mules and pumps.  Not just relegated to weddings and vacations.  Try this ultra girlie shoe with distressed denim, t-shirts and over-sized shirts.
For a personal styling appointment with Candace Kristin, and to get these looks directly in your closet, please e-mail Tiffany Ramirez at Tiffany.Ramirez@urw.com to schedule your personal styling appointment!