Personal Stylist Candace Kristin
Stylist Candace Kristin's Top February Picks
It's February, we are all aware what falls on the 14th.   Hallmark holiday you ask?  A definite NO declares this stylist.  I am a sucker for heart motifs, the color red, decadent chocolates and inspiration for the perfect evening out ensemble.   Whether you are heading to an intimate dinner, chilling out with friends or just looking for a perfect gift, here are some ideas for you this "hearts day" month. 
Off The Shoulder Frills
First, let's get you fashionable fabulous. An upcoming color trend is vibrant red with neon pink. Once considered a fashion faux pas, it's now this season's hottest pairing and perfect for a Valentine's evening rendezvous. This red off-the-shoulder dress with dramatic sleeves is definitely a seasonal trend.
Halston Heritage One-Shoulder Flounce Dress, $395, available at Neiman Marcus
The Pom Pom
Fun and bold accessories—like this pom pom heel in pink—are also having a moment.
Aquazzura Powder Puff Satin Slingback Pump, $795, available at Neiman Marcus
Mini Bags
Pull the whole look together with this top handle mini handbag.  Another top trend this season, shrink your bag for sure.
Nancy Gonzalez Nancy Gonzalez, $2,950, available at Neiman Marcus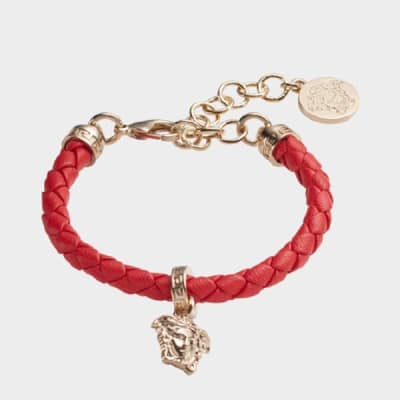 For That Fabulous Someone
Next step, lets think about gifts that you can indulge a special someone or purchase for your self.  Because, it's never not a good time to treat yourself. A little arm candy can make a big difference. This mix of gold and bright red on this braided leather rope bracelet screams "Happy Valentine's Day!"
Versace Braided Leather Charm Bracelet, $200, available at Versace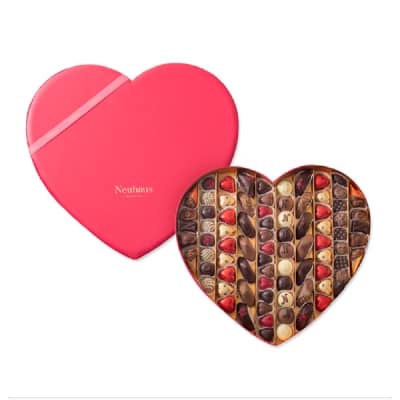 The Sweetest Trend Of Them All
To this stylist, chocolate is always in fashion-- and holy moly this is a MUST have.  Neuhaus created an 82 piece chocolate extravaganza! It's a box of yumminess that just keeps on giving. 
Ultimate Infinite Love Valentine Heart, $172, available at Neuhaus Belgian Chocolate
The Perfect Scent
Nothing completes an outfit like the perfect perfume. Head over to Penhaligon's where you can build a custom fragrance profile for your loved one. After answering a series of questions, the Penhaligon's consultant will suggest a signature scent unique to you. Pretty cool, right?
Penhaligon's Fragrance Profiling, available at Penhaligon's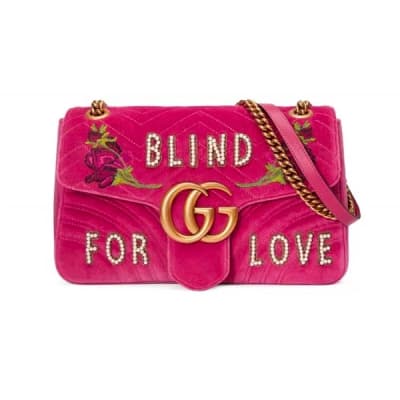 Blind For Love
If you're asked what you want this Valentine's Day, tell them the Blind for Love Gucci Marmont. It's another perfect handbag that embodies all of Spring's trends. Pearl gems and embroidered embellishments? What's not to like? Pair this bag with jeans, a kitten heel, and a blazer, and you'll be ready for a casual evening with friends.
Gucci GG Marmont Medium Embroidered Velvet Blind for Love Shoulder Bag, $2,800, available at Gucci
Need to find a perfect ensemble, fabulous gift or get heart day ready, please contact me at  917-864-5527. 
I am a sucker to this month dedicated love, lust and everything in between. 
Xo ck