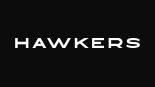 HAWKERS
Open today
From 9:30 AM to 10:00 PM

660 24 42 78
Gafas de Sol. Moda. Trendy
 ¿Quieres estrenar gafas de sol nuevas? ¿Te gusta ir a la moda y complementar tus looks con las gafas de tendencia del momento? ¡No te lo pienses más y acércate a la tienda Hawkers de tu centro comercial favorito!
Hawkers es una firma española nacida en Internet con el objetivo de revolucionar la industria de las gafas de sol con una propuesta clara: gafas unisex de marca y calidad, a un precio justo. En menos de 10 años, Hawkers se ha situado entre las 3 primeras marcas de gafas de sol del mundo por unidades vendidas y entre las 10 marcas españolas de moda más reconocidas a nivel internacional. En la actualidad, Hawkers tiene más de 80 tiendas en España, Portugal, Italia y Londres.
Otro de los puntos fuertes de la marca es trabajar con influencers de la talla de: Paula Echevarría, Andrés Velencoso o el futbolista Neymar que exhiben sus productos. También invierten en patrocinios a famosos como Jorge Lorenzo, Nicolás Almagro o Nicky Romero. Siguiendo con esa estrategia Hawkers se convirtió en patrocinador de los Ángeles Lakers y es la primera marca española en patrocinar un equipo de la NBA.
¡Protégete a ti y a los tuyos con las gafas de sol perfectas!
Opening Hours
Monday

Closed

Tuesday

· From 9:30 AM to 10:00 PM


Wednesday

· From 9:30 AM to 10:00 PM


Thursday

· From 9:30 AM to 10:00 PM


Friday

· From 9:30 AM to 10:00 PM


Saturday

· From 9:30 AM to 10:00 PM


Sunday

Closed
See all offers
*Offers are subject to availability. Offres can not be redeemed in cash. Only one offer per person and visit is allowed. Offers can not be used in combination with other offers and vouchers. Offers ar not valid on purchase of gift cards or other prepaid payment products.
---