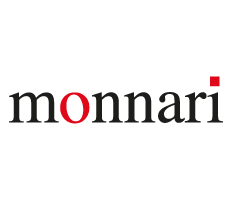 Monnari
Open today
From 9:00 AM to 9:00 PM

Monnari to polska marka odzieżowa z ponad 20-letnią tradycją, stworzona dla kobiet, które cenią sobie elegancję oraz ponadczasowe stylizacje.
Szeroki asortyment ubrań oraz dodatków dostępny jest w ponad 180 salonach w całej Polsce oraz w sklepie internetowym emonnari.pl.
Wzornictwo Monnari to jakość, estetyka i najnowsze trendy modowe.
Nowy salon będzie charakteryzował się ustandaryzowanym dla całej marki Monnari konceptem handlowym, do którego nasi Klienci są przyzwyczajeni.
Monnari – modnie być sobą
Opening Hours
Monday

· From 9:00 AM to 9:00 PM


Tuesday

· From 9:00 AM to 9:00 PM


Wednesday

· From 9:00 AM to 9:00 PM


Thursday

· From 9:00 AM to 9:00 PM


Friday

· From 9:00 AM to 9:00 PM


Saturday

· From 9:00 AM to 9:00 PM


Sunday

· From 9:00 AM to 9:00 PM