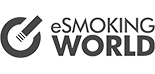 eSmoking world
Open today
From 9:00 AM to 9:00 PM

731 871 407
eSmoking world offers alternative nicotine products for adult users. Here you will find products of the highest quality, which include:
liquids made in Poland,
e-cigarettes,
tobacco warmers,
or nicotine sachets.
We guarantee professional service and innovative solutions that allow you to perfectly tailor the device to meet all your needs.
Opening Hours
Monday

· From 9:00 AM to 9:00 PM


Tuesday

· From 9:00 AM to 9:00 PM


Wednesday

· From 9:00 AM to 9:00 PM


Thursday

· From 9:00 AM to 9:00 PM


Friday

· From 9:00 AM to 9:00 PM


Saturday

· From 9:00 AM to 9:00 PM


Sunday

· From 9:00 AM to 9:00 PM