New!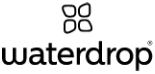 Waterdrop®
Open today
From 12:00 PM to 6:00 PM

waterdrop® werd in 2017 opgericht in Wenen, met als missie iedereen aan te moedigen meer water te drinken en zo een gezonder en duurzamer leven te leiden.
Dat gezegd hebbende, verkoopt waterdrop® eigenlijk geen water, maar Microdrinks - het fijnste van fruit- en plantenextracten samengeperst in de vorm van een klein blokje. Deze handige blokjes zonder suiker lossen op in water en zorgen voor een verfrissend drankje, verrijkt met vitaminen en een heerlijke smaak, waarvan je altijd en overal kan genieten. Om aan elke smaak en levensstijl tegemoet te komen, biedt waterdrop® een uitgebreid assortiment aan - zoals Microenergy voor wie een energieboost zoekt en Microlyte voor sportievelingen die hun elektrolyten moeten aanvullen.
Om de hele drinkervaring te verbeteren, bieden we ook flessen van hoogwaardig borosilicaatglas en dubbelwandig roestvrij staal, zodat je in stijl meer water kan drinken. Kom langs in onze winkel om onze smaken te proeven en ons aanbod zelf te ontdekken! 
Opening Hours
Monday

· From 11:00 AM to 8:00 PM


Tuesday

· From 10:00 AM to 8:00 PM


Wednesday

· From 10:00 AM to 8:00 PM


Thursday

· From 10:00 AM to 8:00 PM


Friday

· From 10:00 AM to 8:00 PM


Saturday

· From 10:00 AM to 8:00 PM


Sunday

· From 12:00 PM to 6:00 PM

See all offers
*Offers are subject to availability. Offres can not be redeemed in cash. Only one offer per person and visit is allowed. Offers can not be used in combination with other offers and vouchers. Offers ar not valid on purchase of gift cards or other prepaid payment products.
---