Extra drukte verwacht
Wij verwachten de komende dagen extra drukte. Check voor je vertrek het verkeer en kom anders met het openbaar vervoer! 
Shoppen op 2e Pinksterdag?
Reserveer jouw gratis plek op de P+R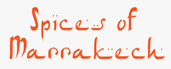 Spices of Marrakech
Open today
From 10:00 AM to 8:00 PM

Spices of Marrakech is a true family business with over thirty years of experience in the hospitality world. To cook up delicious food, you need an ideal spice blend, and the staff at this store can give you the expert advice you need. They specialise in putting together a wide variety of spice blends and have already released many authentic creations.
The spices are sourced from more than thirty countries, including India, Iran, Mexico, Turkey, Thailand, South Africa, all of northern Africa and Morocco - of course. Every spice is selected with the utmost care and, where possible, imported by the company itself. In addition to spices, you'll find beautiful Arabic tableware, cookbooks, tagine pots and mystery boxes at this specialty store, making it a perfect destination if you're looking for a fun gift.
Want to experience the flavours of Marrakech? Go for the Marrakech mix! It's not only a perfect blend of spices, but it's also very pure, authentic and healthy. Not sure what to use it in? No problem! The store's enthusiastic employees would love to tell you more about all the different recipes you could make. That being said, you can always ask any employee for detailed advice on all our spices and seasonings, so don't hesitate to ask for a little assistance!
Opening Hours
Monday

· From 10:00 AM to 8:00 PM


Tuesday

· From 10:00 AM to 8:00 PM


Wednesday

· From 10:00 AM to 8:00 PM


Thursday

· From 10:00 AM to 8:00 PM


Friday

· From 10:00 AM to 8:00 PM


Saturday

· From 10:00 AM to 8:00 PM


Sunday

· From 12:00 PM to 6:00 PM