Extra drukte verwacht
Wij verwachten de komende dagen extra drukte. Check voor je vertrek het verkeer en kom anders met het openbaar vervoer! 
Shoppen op 2e Pinksterdag?
Reserveer jouw gratis plek op de P+R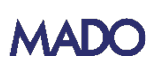 MADO
Open today
From 10:00 AM to 10:00 PM

MADO, ons merk onder de paraplu van Yaşar Dondurma ve Gıda Maddeleri A.Ş., produceert hoge kwaliteit en heerlijke smaken over de hele wereld. En we blijven groeien met ons nieuwe filiaal in Westfield Mall of Netherlands. Daar maken we de puurste en fijnste ijsjes door traditioneel vakmanschap dat we hebben geërfd van onze voorouders.We halen ingrediënten uit de natuur om u de smaak van echt ijs te geven, terwijl we de pure melk van de geiten die we op onze boerderijen fokken, mengen met het geplukte verse fruit. We maken van het ijs seizoensoverschrijdende smaken.
Naast onze rijke ijsopties, presenteren we u ook heerlijke warme desserts -künefe, room, pistache en Birma kadaifs-, melkachtige desserts, traditionele sorbetdesserts, bagels, ronde boreks gekookt in een künefe-schotel, choux sandwiches, zelfgemaakte limonade, verse dranken met of zonder ijs en verschillende soorten koffie van over de hele wereld. We hebben ook een rijke en plezierige keuken die een heerlijk ontbijt en een breed scala aan Turkse gerechten voor diner en lunch kan serveren.
Opening Hours
Monday

· From 10:00 AM to 10:00 PM


Tuesday

· From 10:00 AM to 10:00 PM


Wednesday

· From 10:00 AM to 10:00 PM


Thursday

· From 10:00 AM to 10:00 PM


Friday

· From 10:00 AM to 10:00 PM


Saturday

· From 10:00 AM to 10:00 PM


Sunday

· From 10:00 AM to 10:00 PM