Extra drukte verwacht
Wij verwachten de komende dagen extra drukte. Check voor je vertrek het verkeer en kom anders met het openbaar vervoer! 
Shoppen op 2e Pinksterdag?
Reserveer jouw gratis plek op de P+R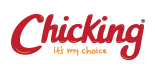 Chicking
Open today
From 10:00 AM to 11:00 PM

070-2199608
Chicking® is een halal keten van fast-food restaurants, of QSR's (quick service restaurants) met een heerlijk gevarieerd menu met gepaneerde en gefrituurde kip gerechten, wraps, sandwiches en Mexican style varianten. Chicking is met veel passie en liefde ontwikkeld in Dubai. In de Verenigde Arabische Emiraten is in het jaar 2000 de eerste outlet geopend. Chicking is inmiddels enorm populair, vandaag de dag is Chicking aanwezig in meer dan 23 landen en mt meer dan 2.200 medewerkers in meer dan 180 winkels Chicking staat voor food innovatie. Na de introductie van het Mexita-assortiment met wraps en sandwiches, werden ook de Tandoori Bites en Flaming Grilled Chicken, Pizza's, Pasta gelanceerd. Dit was meteen een groot succes. Chicking serveert altijd een opwindend en gevarieerd menu en laat zich inspireren door allerlei smaakculturen uit de hele wereld. Van authentiek Amerikaans, overheerlijk Mexicaans, inspirerende Indiaas, onweerstaanbare Italiaans tot watertandend Filipijns. Altijd onze gerechten innoveren, dat is waar onze passie ligt. En dat proef je!
Opening Hours
Monday

· From 10:00 AM to 11:00 PM


Tuesday

· From 10:00 AM to 11:00 PM


Wednesday

· From 10:00 AM to 11:00 PM


Thursday

· From 10:00 AM to 11:00 PM


Friday

· From 10:00 AM to Midnight


Saturday

· From 10:00 AM to Midnight


Sunday

· From 10:00 AM to 11:00 PM