OUVERTURE EXCEPTIONNELLE LE LUNDI 29 MAI
Votre centre de shopping est exceptionnellement ouvert le lundi 29 mai de 10h à 20h.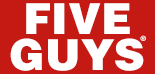 FIVE GUYS
Open today
From 10:00 AM to 8:00 PM

01 47 74 71 41
Five Guys is a restaurant serving perfectly cooked hamburgers and fries and that's all. If you ate at Five Guys once a year, you would need 684 years to taste all the combinations of burgers and garnishes. All the more reason to come to your shopping centre.
Practical Links :
Opening Hours
Monday

· From 10:00 AM to 8:00 PM


Tuesday

· From 10:00 AM to 8:30 PM


Wednesday

· From 10:00 AM to 8:30 PM


Thursday

· From 10:00 AM to 8:30 PM


Friday

· From 10:00 AM to 8:30 PM


Saturday

· From 10:00 AM to 8:30 PM


Sunday

· From 10:00 AM to 8:00 PM

Practical Links :