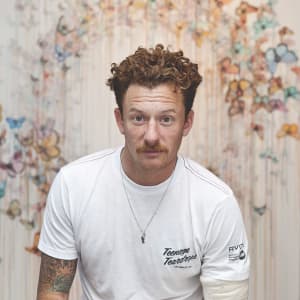 Westfield Art+ Presents: Sage Vaughn at Westfield Century City
–
LEARN MORE
Discover American artist Sage Vaughn's art installation at Westfield Century City for a limited time this holiday season along the Santa Monica Boulevard windows and the black staircase near Kiehl's on Level 1.
ABOUT THE WORK
"It's easy to be inspired by this time of year—I wanted to add to the joy of the holidays with the joy I get from art-making. Drawing from my ongoing visual vocabulary that originates with my studio practice, I took JOY as a motif for designing the holiday windows at Westfield Century City. It was great to work with the different spaces and imagine their different viewers—people walking through Westfield, people in cars on the street. I hope the joyful energy of the butterflies will carry them through this happiest time of the year."
ABOUT THE ARTIST
Sage Vaughn is an American artist best known for his graphic, collage-like paintings.He creates narratives through overlaying spaces emblematic of human civilization with depictions of the natural world. Vaughn's work incorporates themes and aesthetics common in street art, such as drips from vertical spraying, stencils, and tattoo art. "I'm interested in man's wild side, and animals' civilized aspects," he's said: "Where society and the wilderness overlap." Born in 1976 in Jackson, OR, Vaughn currently lives and works in Los Angeles, CA. His exhibition history includes shows at Judith Charles Gallery in New York, Galerie Bertrand & Gruner in Geneva, and the Museum of Contemporary Art in Los Angeles.
chat with concierge