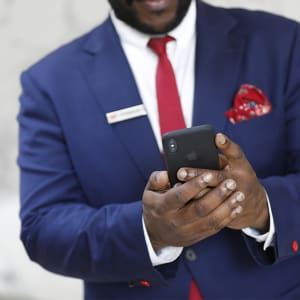 Answer On The Spot at Westfield Century City
–
| | | |
| --- | --- | --- |
| Day | Date | Time |
| Tuesday | Mar 31 | – |
| Wednesday | Apr 1 | – |
| Thursday | Apr 2 | – |
| Friday | Apr 3 | – |
| Saturday | Apr 4 | – |
| Sunday | Apr 5 | – |
| Monday | Apr 6 | – |
| Tuesday | Apr 7 | – |
| Wednesday | Apr 8 | – |
| Thursday | Apr 9 | – |
| Friday | Apr 10 | – |
| Saturday | Apr 11 | – |
| Sunday | Apr 12 | – |
| Monday | Apr 13 | – |
| Tuesday | Apr 14 | – |
| Wednesday | Apr 15 | – |
| Thursday | Apr 16 | – |
| Friday | Apr 17 | – |
| Saturday | Apr 18 | – |
| Sunday | Apr 19 | – |
Not sure if a store is open or closed? Looking for shopping tips and promotions from our retailers?
Introducing Answers on the Spot, the new texting service provided by Westfield Century City.
Text 310.307.3993 with your center questions every day from 10am-7pm and get an instant response from a Concierge team member.
For a full list of stores currently open and updates on center options relating to COVID-19, click here.
chat with concierge